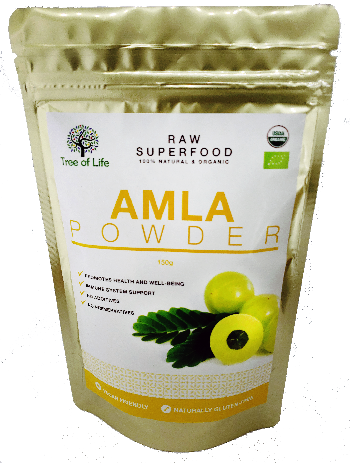 Amla's scientific name is Emblica Officinalis. It is commonly known as Indian Gooseberry or Amalaki and is considered the most powerful rejuvenating fruit in traditional Indian medicine. In Sanskrit, Amla means "the sustainer" and has traditionally been prescribed for many uses and is believed to slow down the aging process.
Traditionally, Amla has been used to help nourish the scalp and hair roots, promote healthy hair, and enrich hair pigmentation.  It is also used to detoxify the body, support a healthy digestive system, balance stomach acid and promote liver function.
Amla is also used to help menstrual cramping, reduce inflammation, and regulate the urinary system. It is also believed to help strengthen the heart muscles, reduce cholesterol, promote the creation of new red blood cells, and clean the arteries.
It can be taken to boost the immune system, control the effects of coughs and colds and promote skin health, and works well as a natural laxative.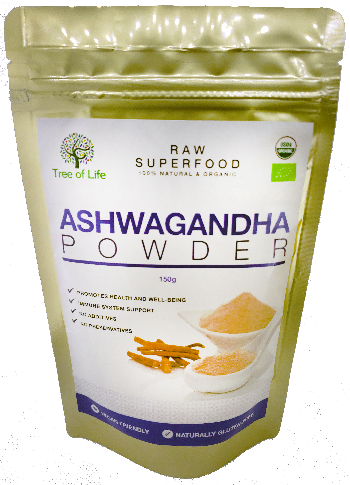 Ashwagandha's scientific name is Withania Somnifera. It is also known as 'Indian Ginseng' or 'Winter Cherry' and it is one of the most powerful and highly prized herbs in traditional Indian medicine.
Traditionally, Ashwagandha has been used to alleviate stress and fatigue, support energy levels and boost brain and cognitive function. It is also used to balance the production of testosterone, the hormone dehydroepiandrosterone (DHEA) and cortisol, and help to control adrenal fatigue. As an aphrodisiac, it promotes sexual health, potency, and testosterone levels in men.
Additionally, it is believed to be beneficial for treating arthritis, some inflammatory conditions, auto-immune disorders, and many viral, bacterial, and fungal infections. Ashwagandha is known to promote cardiovascular health, lower cholesterol, and balance blood sugar.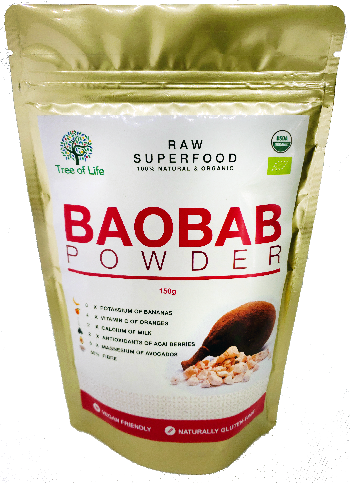 The Baobab Tree is known as the 'Tree of Life," and the fruit of the Baobab Tree has been used for thousands of years for its nutritional properties and is considered as the number 1 Super-fruit in the world today. It contains four times more vitamin C than oranges, double the calcium of milk, double the iron of spinach, and six times the potassium of bananas.
Among others, some of the Baobab Fruit Powder health benefits may include Increased energy, Improved skin tones, Improved overall wellness, Weight management, Reduced signs of aging, Improved digestion, Healthy blood pressure maintained, Mood balance, Increased endurance. It is a powerful anti-oxidant and the Baobab ORAC (Oxygen Radical Absorbance Capacity or antioxidant) value is 24,000 pmol TE per 100g which is slightly more than dried goji berries at 23,000 pmol TE per 100g, and 3 times higher than blueberries.
Moringa Oleifera, often known as The Miracle Tree or the Elixir tree, has the reputation of being one of the most nutritious plants ever discovered. Its leaves contain more than 90 nutrients, 46 antioxidants, 36 anti-inflammatory compounds, 18 amino acids and also includes all 8 essential amino acids. The vivid green leaves are nature's superpower food.
Moringa is rich in phytonutrients, which are effective for preventing various medical conditions such as cancer, neurodegenerative diseases, bronchial asthma, sickle cell disease, nephrotoxicity, high cholesterol, high blood pressure, anemia, and obesity, as well as helping to build a strong immune system.
Moringa is a highly nutritious plant and is generally safe for consumption. However, its usage as a sole treatment should only be considered after consultation with a medical professional. Ways to use Moringa leaf powder